The honorary award of the Icelandic Design Award 2023 goes to Sigrún Guðjónsdóttir "Rúna", ceramist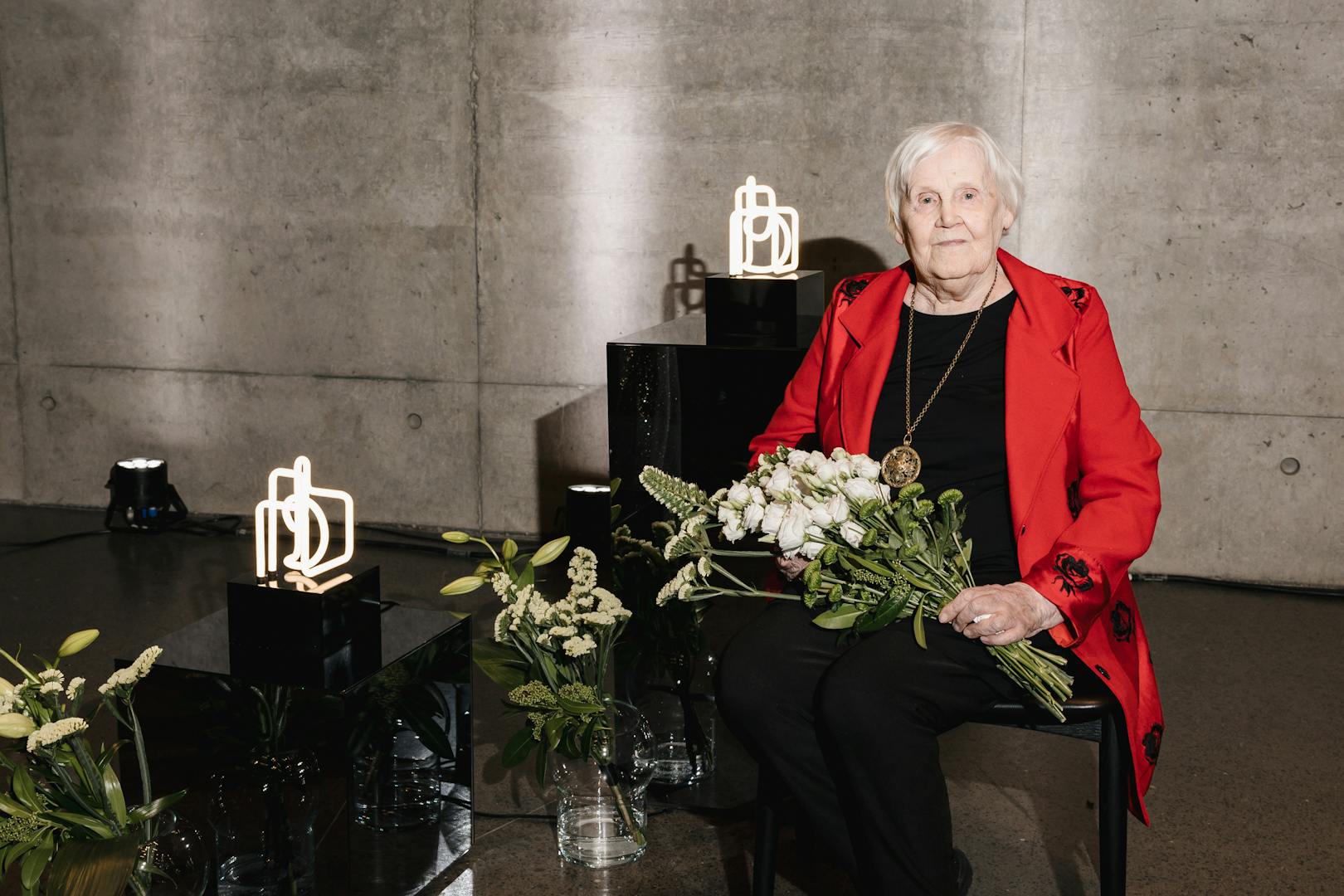 Sigrún Guðjónsdóttir, Rúna, has been selected for the Honorary Award of the Icelandic Design Awards 2023 for her contribution to ceramic art.
From the jury:
Rúna's life's work encompasses design, visual art, craftsmanship, education, and innovation, while embracing partnership with other artists, businesses, and the public. Rúna's work is characterized by playfulness, and her methods, distinctive features, and prominent style has awakened great curiosity and been an inspiration to her successors in ceramic art and design. We could claim that Rúna's imagery has had a formative influence on generations of Icelanders, young and old, which is evident in the numerous artworks in Icelanders' homes and institutions since the middle of last century. She is a pioneer of her time which is evident in the visible boldness of her work. While almost exclusively working with Icelandic clay, she has not hesitated to experiment with mixing types of clay and glaze firing. She has taken a deep interest in this medium being equal to other visual art and paintings. Rúna's work is often described as poetic as she works with mystical memories and tales combined with Iceland's nature and scenic beauty in her palette of mild colors.
Rúna was born in 1926 and grew up in Hafnarfjörður. As a teenager, she studied at The Icelandic College of Arts and Crafts where she also earned a teacher certification at the age of 18.
In the year 1946, she went with her husband, Gestur Þorgrímsson, to Copenhagen where she studied painting, and he studied sculpture at the Royal Danish Academy of Fine Arts. Upon their return home to Iceland, the couple established the studio Laugarnesleir where Gestur sculpted pieces and Rúna designed and painted patterns and shapes.
Around 1970, Rúna started to experiment with porcelain colors and glaze firing of ceramics, and through that, developed a technique that involved imprinting colors with stencils. In preparation for the celebration of Iceland's 1100 years as a nation in 1974, there was a competition for motifs for decorative plates, and Rúna's contribution featuring profile images of faces, fish, and birds was chosen. These motifs are common in Rúna's work and became one of the most recognizable motifs in Icelandic homes at that time.
Rúna had successful partnerships with key actors such as Bing & Gröndal and Villeroy & Boch making tableware and painted tiles.
You can spot Rúna's larger pieces in several public places in Reykjavík, for example in the headquarters of ÁTVR in Ártúnsholt and in the vestibule of Seljakirkja Church in Breiðholt. In addition, an art piece by Rúna and Gestur featuring athletes in high-fire clay is prominently displayed over the entrance of Laugardalshöll Sports Arena although the piece was first designed for the old grandstand in Laugardalur Stadium.
Rúna has been active in the Icelandic art scene since the middle of last century. She leaves behind a large number of artwork, books, book illustrations, and other designed objects. Rúna's work is displayed at many museums, in public places, and is a classic theme in Icelandic homes. Rúna taught at the Faculty of Ceramics at the Icelandic College of Arts and Crafts from 1973 to 1987 and was a very popular teacher.
"It is easy to enjoy life as long as you can work" is a well-known quote by Rúna who says she lives for the work. This is reflected in Rúna's work as a pioneer in ceramic art in Iceland. It is therefore with great joy that the selection committee of the Icelandic Design Awards announces that the Honorary Award 2023 goes to Rúna.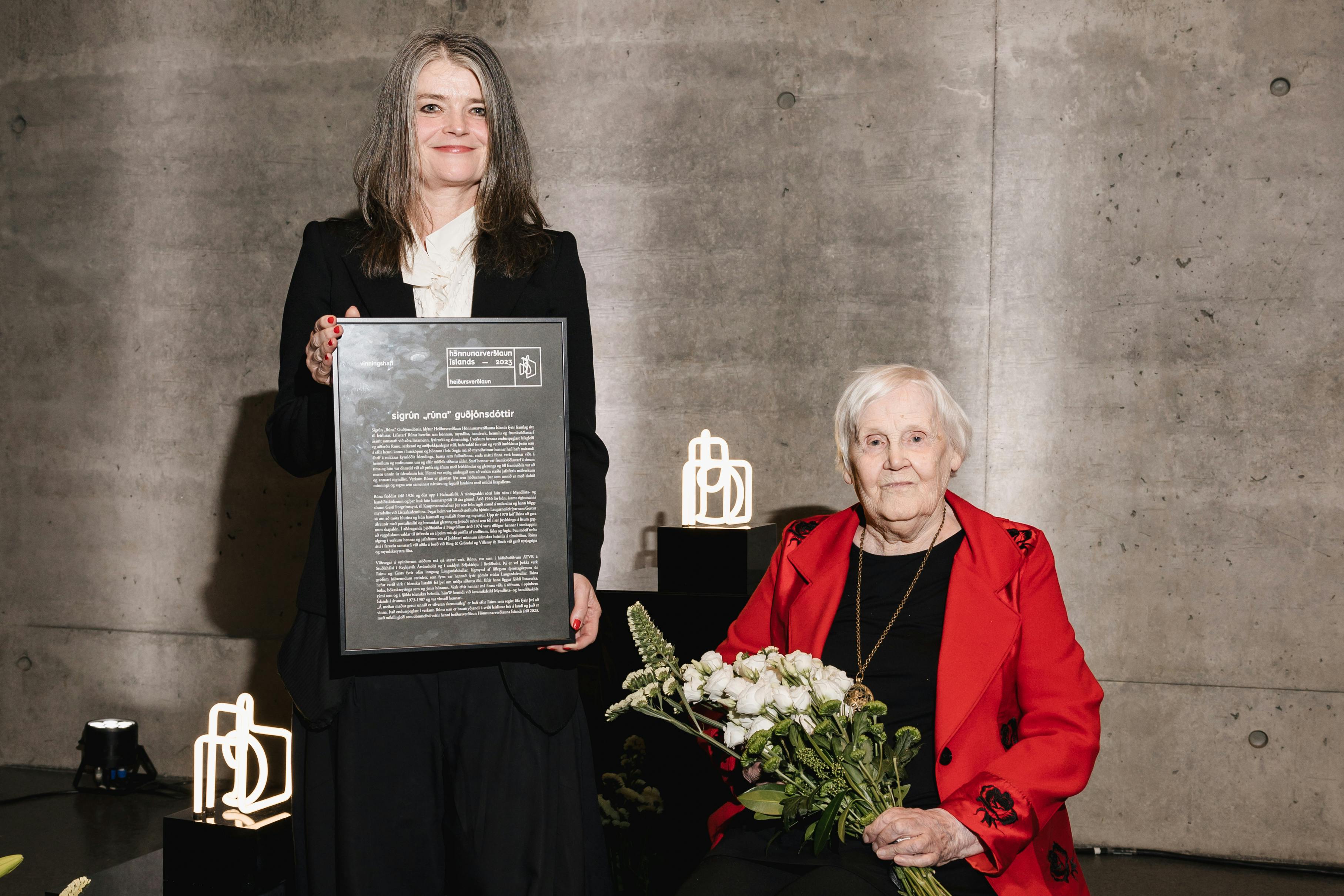 Sigríður Sigurjónsdóttir, chairman of the jury and director of the Museum of Design and Applied arts, gave Sigrún Guðjónsdóttir, ceramist the award at the award ceremony that took place for the 10th time on November 9th in Gróska, in the presence of a large crowd who celebrated outstanding design. To mark the occasion, the award categories have been increased to three: Product // Place // Project with one winner in each category. 
Honorary award is a recognition given to a person who has achieved exceptional success in their work, has been very influential in their professional field, or has delivered outstanding lifetime work in the field of design and architecture in Iceland.
The Icelandic Design Award honours the best Icelandic design and architecture annually. The importance of design in society, culture and business has been growing steadily, and it is therefore vital to increase the understanding of good design and highlight the value of quality. 
The Icelandic Design Award is established by Iceland Design and Architecture in collaboration with the Iceland University of the Arts, the Museum of Design and Applied Art, Promote Iceland, The Housing and Construction Authorities of Iceland, SI - the Federation of Icelandic Industries and Gróska.