Vegrún nominated as project of the year - Icelandic Design Award 2023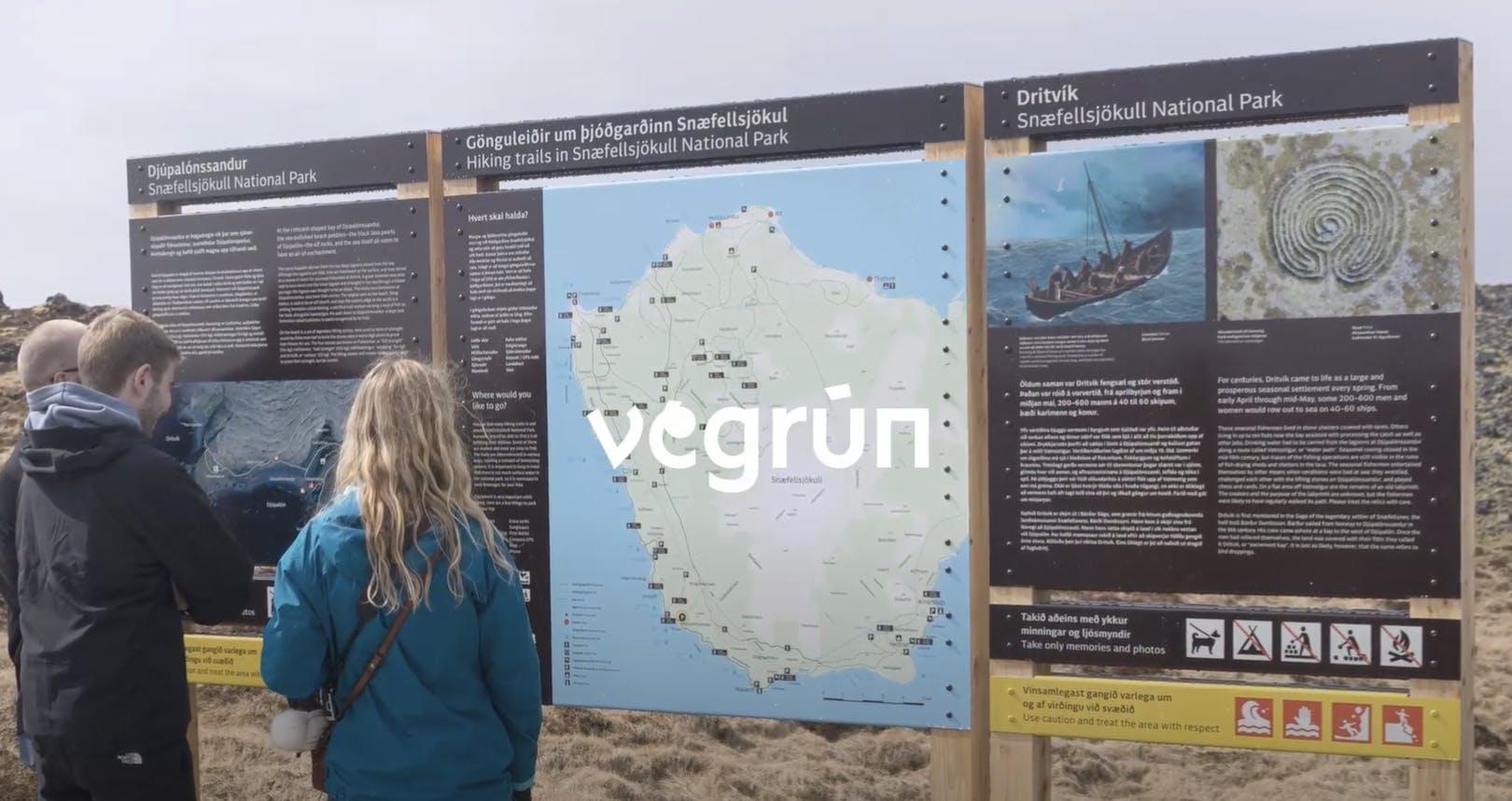 Vegrún by Kolofon and co is nominated in the category Project of the year at the Icelandic Design Award 2023.
From the jury:
The signpost system, Vegrún, is well adapted to nature while also taking into account the specific conditions of each place, whether it be a live monitoring and information system in Reynisfjara, access management in Kirkjufell, or flexible signposts for the volcanic eruptions in Reykjanes. We do not always notice that the items we come across in our daily lives are results of detailed and carefully planned design. Vegrún is a good example of this. It is a comprehensive project with especially perceptive and professional solutions. The clear consideration for each detail results in a beautiful and compelling design.
The signpost and trail system is an inter-disciplinary design project under the auspices of the Ministry of the Environment, Energy and Climate and the Ministry of Culture and Business. The artwork is created by Kolofon and a wide group of designers and specialists with the goal of creating a concordant, versatile, and practical system that is easily accessible to any user in any part of the country. 
About:
The team Kolofon and co consists of professionals with different backgrounds who have worked on large and extensive projects in the field of design and culture, including the design of signs for municipalities in Iceland. The team includes the design agency Kolofon with Hörður Lárusson graphic designer as project manager of the project, Stefán Pétur Sólveigarsson industrial designer, author Gerður Kristný, literary scholar Kristján B. Jónasson and editor Gudmundur Jónasson and civil engineer Gudmundur Jónasson. The team's consultants are Birna Lárusdóttir archaeologist, Sigþrúður Stella Jóhannsdóttir biologist and Gísli Gíslason, landscape architect.  
Icelandic Design Awards will take place in Gróska on November 9th - save the date!
Stay tuned as we will be announcing the nominations in the upcoming days. 
The Icelandic Design Award honours the best Icelandic design and architecture. The importance of design in our society, culture and business has been growing steadily, and it is therefore vital to increase the understanding of good design and highlight the value of quality.
The Icelandic Design Award will be awarded for the tenth time this year (2023), and to mark the occasion, the award categories have been increased to three: Product // Place // Project. In addition, the Icelandic Design Awards also include honorary award and recognition for the best investment in design.
The Icelandic Design Award is established by Iceland Design and Architecture in collaboration with the Iceland Academy of the Arts and the Museum of Design and Applied Art and with support from Business Iceland and SI - the Federation of Icelandic Industries.